Laura's Blog

The Beauty of Synchronicity
May 18, 2015
The Beauty of Synchronicity
I think sometimes things are just meant to be, and when that involves a positive experience of creativity it feels particularly magical. I recently had the great fun of spending a weekend with the incredibly talented woman who narrated the new audio edition of Under a War-Torn Sky. YA Sync asked us to record a Q-and-A interview about the experience of Elizabeth Wiley's recording my novel. The far-ranging conversation will be posted on YA Sync's site during its remarkable summer program of free audiobook downloads—one per week—to keep teens reading during vacation. http://www.audiobooksync.com/ (More on that in a moment)
Liz, a theatre professor at William and Mary, also happens to have been one of the more important mentors to my daughter, Megan Malone Behm, a director and actor in Washington, D.C.. So she and I drove down to "the 'Burg" together, enjoyed a lovely evening catching up on all the Tribe news, and Megan recorded the session the next morning. In addition to discussing the many joys of writing, research, and creating character, theatre's evocative powers, plus the vital importance of story in human culture, the three of us shared many laughs—all in the company of Liz's sociable cat, Millie. I learned a great deal about the process involved in audio narration—the care with which Liz researched the many sounds (machine gun fire, explosions) as well as multiple languages before recording, and how meticulously a narrator must notate a manuscript before recording it. It was a privilege to be in the company of two such gifted artists, Liz and Megan.
I also just have to share the no-nonsense aspect of creative artists' lives. Liz's glamorous sound studio? Her closet, padded on the walls, her clothes offering a perfect absorption and reflection of her voice!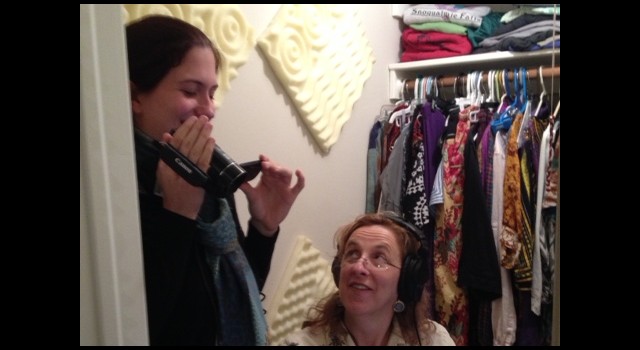 YA SYNC's free downloads have already started. This is week two. Each week pairs a YA novel with a classic. Mark your calendar for our week--Number 14, August 6 – 13.
http://www.audiobooksync.com/2015-sync-titles/
I have recently witnessed firsthand the power of pairing classroom reading with audio recordings, something educators are finding can increase accuracy by 52 % and comprehension by 76%. See http://www.soundlearningapa.org/. One of my favorite teachers used Liz's narration with a class of challenged learners, several struggling to pass 8th grade. They were mesmerized by her narration. One of them told me he hated reading… EXCEPT for that experience. "Who was that woman?" he asked. "How did she know how to talk like a man? How did she know how to make the sound of a gun?" and then the best: "You got any more books?"
I can also attest that it's just a wondrous thing to sit back and take in Liz capturing all the novel's characters—French, German, British, and American, from rural Tidewater to affluent Northern cities. Listening to her voice and dramatic reading makes me very proud to have written Under a War-Torn Sky.
More to come as we near August 6.