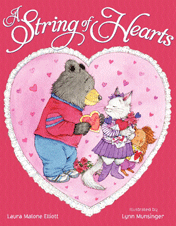 Valentines come in all sorts of shapes and sizes. Some are home-made and some are store-bought. Some are funny and some are not.

Sam wants to give just the right valentine to Tiffany, the best-liked girl in class. But what kind—funny, a poem, a cut-out heart—is just right? Mary Ann shows Sam how to make all sorts of valentines and in the process what a true friend she really is—even if she's not the most popular girl in class.
"Brown bear Sam wants to make a special valentine for a 'pretty in purple' cat, Tiffany. His neighbor Mary Ann, a bushy-tailed squirrel, offers to help (though her face falls when he tells her who the card is for), and they construct funny valentines for all of their classmates, along with a purple one for Sam's crush. But when Sam gives it to Tiffany, she doesn't even notice. Munsinger and Elliott sensitively convey classroom popularity dynamics and Valentine's Day butterflies; the moment when Sam realizes that it's Mary Ann he really likes should touch even Valentine's Day grouches. "
+ read more— Publisher's Weekly
"K-Gr 2—The delightful title sets the tone for this sweet story of friendship and a boy's first crush. Sam's teacher, a motherly bear named Mrs. Wright, announces to her students that they will make valentines. "Write something special about each classmate," she instructs. Sam, an earnest cub in a red jersey and jeans, has a crush on Tiffany. When he tells Mary Ann that he wants to make a "really good valentine" to impress the popular cat, she is disappointed but agrees to help him. They spend the afternoon creating imaginative valentines at the loyal squirrel's house. Not knowing anything about Tiffany except her favorite color, Sam decorates her card with purple stickers. She drops the card, and when Sam puts it in his pocket, he finds a surprise: a string of hearts made by Mary Ann. On each one she has listed a reason for liking him. Sam realizes that he can think of lots of good things about her, too, and rushes home to make her a special valentine. The cheery artwork illustrating this heartwarming love triangle shows fluffy, well-dressed animals in bright colors. Their expressive faces mirror the emotions explored in the narrative. A lovely Valentine story about the real meaning of friendship."
+ read more— School Library Journal
"When Mrs. Wright instructs the class to make a valentine for everyone, Sam knows his valentine to popular Tiffany has to be very special, but he doesn't know how to make one. Luckily, his neighbor Mary Ann helps him, even though it is obvious that she wishes she were Sam's valentine, not Tiffany. While the next school day does not turn out the way he had hoped, Sam isn't sad for long—a special string of hearts in his pocket makes him realize what a great friend he has in Mary Ann. Munsinger's animal cast is delightfully diverse. They fawn shamelessly over Tiffany, while Mary Ann, who is not afraid to be herself, holds herself apart. Through it all, the strong bond shared by Sam and Mary Ann is evident. …a solid tale of the value of true friends and the facade that sometimes covers popularity."
+ read more— Kirkus Reviews
Awards
A Junior Library Guild Selection
A Children's Book-of-the-Month Pick