See WETA's www.Adlit.org for a themed page on WWII for podcasts and video interviews with L.M. Elliott and a host of resources, glossaries, and activities to bring the history alive.
Just 19-years-old, Henry Forester is the youngest pilot in his Air Force squadron. Still, he's one of the best fliers, facing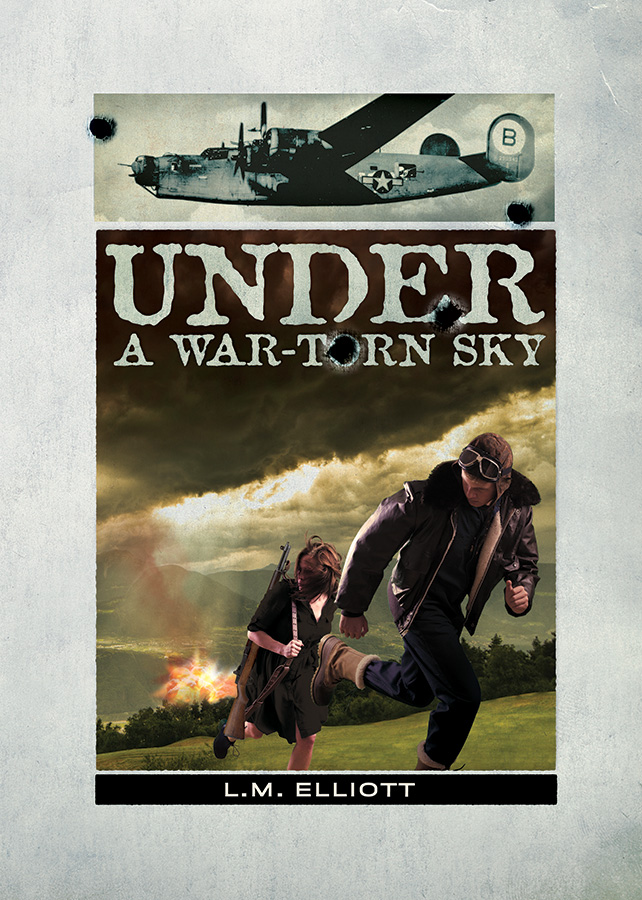 Hitler's Luftwaffe in the war-torn skies above France. But when his plane is shot down on a mission behind enemy lines, Henry finds himself on a whole new battleground. Wounded, hungry, and afraid, he struggles toward freedom on foot, relying on the kindness and cunning of the French Resistance to reach the next town alive. Each day brings him nearer to home and closer to danger. Yet even as Henry struggles for his own survival in a hostile country, he quickly grows to realize the great peril that surrounds all the French people, and to admire the strength and determination of the freedom fighters who risk death to protect him. Gripping, suspenseful, and achingly true, this thought-provoking novel explores the heartbreak of war, the strength of the human spirit, and one young man's struggle to regain and protect the people he loves.
"Elliott paints a picture of war that we don't often see, one that is away from the battles, showing life and death in a war-ravaged land."
Kliatt
"An emotional, action-packed gem!

"Henry encounters many different people, each one touching his life in an important way. Henry grows from a naive boy to a strong man with a survivor's instincts, experiencing the true complexity of the human spirit. Elliott paints a picture of war that we don't often see, one that is away from the battles, showing life and death in a war-ravaged land. She illustrates through her well-planned story lines how one can prevail through the most adverse of conditions, bringing up many ethical and moral questions.

"An engrossing thrill-ride."
+ read more— Kliatt
"It's packed with action, intrigue, and suspense, but this novel celebrates acts of kindness and heroism without glorifying war.

"Henry Forester, a young B-24 flier, is a complex mix of insecurities, unresolved feelings about his punitive father, and heroic aspiration. On his fifteenth mission, he is shot down, having no idea where he has landed. His journey back through Nazi occupied Europe and his involvement with the French Resistance are depicted with chilling realism. Small details (bike wheels in France were made of wood because the Germans had confiscated all the rubber) add both credibility and appeal to this gripping adventure."
+ read more— Booklist
"Hank is a smart, strong, and courageous character."
+ read more— School Library Journal
"A powerful debut novel of adventure and salvation. Readers, young and old, will be moved by this fine book."
+ read more— Children's Literature
"Elliott's fluid style is woven together with vivid historical details from WWII, appropriate for adolescents who seek suspense-filled adventures. Inspired by true stories of WWII, Elliott captures the courage, self-sacrifice, and bravery of the French Resistance forces. Fans of history, culture, language, or just good storytelling will definitely want to read this."
+ read more— BookPage
"This book is full of danger, terror, surprises, and tenderness."
+ read more— Teaching & Learning
Notable Book in Social Studies for Young People (NCSS/CBC), 2002
Jefferson Cup Honor Book, 2002
Winner, Borders' Original Voices Award for Young Adult Literature, 2001
Best Children's Books of the Year, 2002, Bank Street College of Education, CBC
Maryland Black-eyed Susan Award, finalist, 2004-5
Iowa Teen Award, finalist, 2003-4
Pennsylvania Young Readers' Choice, finalist, 2002-3
South Carolina Jr. Book Award, finalist, 2003-4
Books About Trauma, Tragedy and Loss, 2002, CBC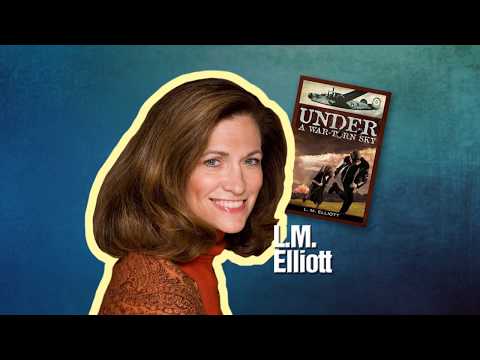 Book Talk and Read-Aloud with FCPS TV
In this mini-talk and reading of UNDER A WAR-TORN SKY, L. M. Elliott talks about how well-researched period fiction humanizes history, bringing it alive through the compelling story of individual characters. She reads a chapter in which Henry Forester has his first encounter with the French Resistance as they help him escape from a train, asking the listener to count the "maquisards" involved in the getaway.
Watch Now
---
Under a War-Torn Sky is now an award-winning audiobook narrated by Elizabeth Wiley!
Purchase the audiobook on audible
here
.
Also, for a video interview of Liz and me together, and Liz in her closet studio, click on the following links:
https://www.youtube.com/watch?v=mIVlRcgza4c&feature=youtu.be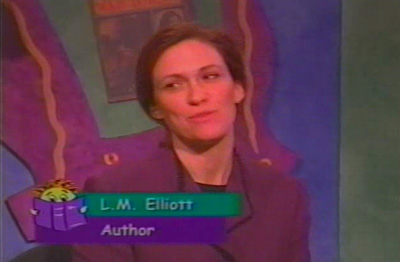 Clip from TV interview "Meet the Author"
Watch Now