Under a War-Torn Sky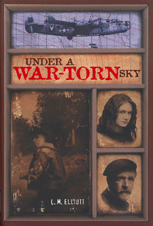 Under a War-Torn Sky and A Troubled Peace tell the story of a B-24 bomber pilot who survives bailing out over Nazi-occupied France and then returns, following liberation, to find a young Resistance boy who saved him. Across a War-Tossed Sea is a companion home-front novel about two young Londoners who escape the Blitz to stay in Virginia with the family of Henry's high school sweetheart, Patsy.
Other recommended reading and films, focusing on the war against Hitler, include:
Books
Holocaust: 
The Diary of a Young Girl by Anne Frank; Milkweed by Jerry Spinelli; Night by Elie Wiesel (for 14 and older)
The American Experience: The Last Mission by Harry Mazer; Don't You Know There's a War On? by Avi; 
The Summer of My German Soldier by Bette Greene; Homefront by Doris Gwaltney; The War Outside by Monica Hesse; Code Girls by Liza Mundy
Resistance:
 Code Name Verity and Rose Under Fire by Elizabeth Wein (14 and older); Number the Stars by Lois Lowry; Twenty and Ten by Claire Huchet Bishop; Snow Treasure by Marie McSwigan; For Freedom: The Story of a French Spy by Kimberly Brubaker Bradley; The Boys from St. Petri by Bjarne Reuter; Girl in the Blue Coat by Monica Hesse
The German Experience: 
Soldier Boys by Dean Hughes; Soldier X by Don L. Wulffson; The Book Thief by Markus Zusak; The Boy Who Dared by Susan Campbell Bartoletti; Prisoner of Night and Fog by Anne Blankman
Nonfiction:
 Hitler Youth: Growing Up in Hitler's Shadow by Susan Campbell Bartoletti; 
The Good Fight: How WWII Was Won by Stephen Ambrose; 
Vive La France: The French Resistance During WWII by Robert Green; A Thousand Sisters by Elizabeth Wein
Aircraft:
 The Wild Blue: The Men and Boys Who Flew the B-24s Over Germany by Stephen Ambrose; A Wing and a Prayer by Harry H. Crosby (for high school readers)
Resistance Memoirs (for high school readers):
 The Autobiography of The Woman the Gestapo Called the White Mouse by Nancy Wake; The Diary and Memoir of Virginia Albert-Lake (American in French Resistance); Outwitting the Gestapo by Lucie Aubrac
Photo Collections: Lee Miller's War (Allied war correspondent/photographer, 1944-45); Life: Our Finest Hour, the Triumphant Spirit of the WWII Generation
For High School Readers: 
Suite Francaise by Irene Nemirovsky; The Blood of Others by Simone de Beauvoir; Catch-22 by Joseph Heller; The Great Escape by Paul Brickhill; Madame Fourcade's Secret War by Lynne Olson, D-Day Girls by Sarah Rose; Lilac Girls by Martha Hall Kelly; A Train in Winter: An Extraordinary Story of Women, Friendship, and Resistance in Occupied France by Carolline Moorehead
Films (be forewarned: all are frank their coverage of war events and violence): 

Bombers and crews: Twelve O'Clock High; Memphis Belle (PG); Tuskegee Airmen (PG-13)

Resistance: Charlotte Gray (PG-13); Paris Underground; Julia (PG); Valkyrie (PG-13)
; Female Agents (17+); Resistance (PBS Series)
Civilians: Casablanca: The Best Years of our Lives; Au Revoir, Les Enfants (PG)

Holocaust: Life is Beautiful (PG-13); Lacombe, Lucein; the miniseries Holocaust (starring Meryl Streep); TV movie Playing for Time (Vanessa Redgrave); The Pianist; Schindler's List
Combat: Saving Private Ryan (R); Patton (PG); The Longest Day (G); The Great Escape (PG)
Documentaries:
 PBS/Ken Burns The War; Anne Frank Remembered; The Eye of Vichy: France's Shocking Collaboration with the Nazis; Secret Lives: Hidden Children and Their Rescuers During WWII.