Ginevra and the National Gallery of Art
Ginevra's Trip to Washington
Ginevra de'Benci, The National Gallery of Art
Ginevra de' Benci arrived in America in a suitcase. Despite having a $5 million price tag—the highest purchase cost of any piece of art at that time—she crossed Europe and the Atlantic in 1967 quietly and without much ado, sitting in first class. Beside her was a small, bespectacled gentleman, the art conservator who had verified that she was indeed a Leonardo. He was her only protector on that flight, and technically she traveled as his wife, Mrs. Mario Modestini.
Of course, all the baffled stewardesses and fellow passengers saw was a suitcase, carefully strapped in with a seatbelt. No one knew that the valise had been carefully constructed to cradle a Leonardo masterpiece and to maintain a cool temperature of 44 degrees for the flight's duration. Only right before boarding had Modestini sent a carefully coded telegram: "The bird flies."
Mystery was nothing new for Ginevra de' Benci. Scholars still can only speculate about the portrait's whereabouts for two centuries after Leonardo left for Milan in 1482. Around 1700, she came into the possession of the royal family of Liechtenstein, a tiny principality sandwiched between Switzerland and Austria. During WWII, the royals hid her from the Nazis in a monastery. Then, as Soviet troops approached from the east, the prince retrieved the portrait and smuggled her into his castle in Vaduz for safe keeping. He concealed her in his wine cellar.
Vaduz Castle
Twenty years later, Prince Franz Joseph let it be known that the family was willing to sell Ginevra de' Benci. Bidding was fierce among world-renowned galleries and Italian syndicates determined to return Ginevra to her homeland. Washington's National Gallery of Art was still a relative youngster in the art world, open only for a little over two dozen years. But the NGA had recently hosted a precedent-shattering special exhibit of the Mona Lisa. The French president Charles de Gaulle had agreed to make a personal loan of the world's most celebrated painting to President John Kennedy. The Louvre's director resigned in protest and the White House called the NGA's director John Walker, saying the Mona Lisa was coming and "to cope." The NGA did, to the delight of more than half a million Americans who stood in line to see the famous portrait, and as a result the National Gallery of Art gained international standing.
So it was John Walker who negotiated for Ginevra. He told as few people as possible, giving the portrait a code name of bird, and locking his correspondence in a safe. He also had to find the rather enormous funds required and for that he turned to Ailsa Mellon Bruce, the shy, reclusive daughter of the gallery's founder, Andrew Mellon. Somehow it seems particularly appropriate that this quiet, very private lady was the one who brought Ginevra to us.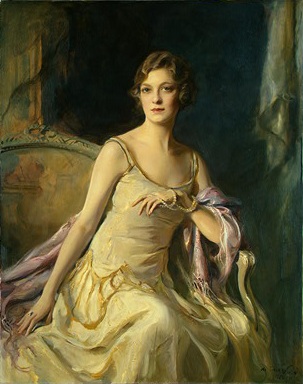 Portrait of Ailsa Mellon Bruce, National Gallery of Art
In 1991, the NGA cleaned and restored the portrait and examined Ginevra under infrared reflectography. Removing a yellow varnish from the portrait's surface revealed an extraordinary range of subtle colors and brushwork, as well as Leonardo's thumbprints as he used his thumb to soften the surface of paint and the transitions between colors. That is also when the gallery discovered the original motto underneath what we see today, the motto Virtue and Honor, that Bernardo Bembo used himself. This discovery definitively identified Ginevra as the subject and really opened up historical research into her life as a Platonic muse.
For more information, view a wonderful video the NGA produced about its purchase, restoration, and study of Ginevra de' Benci, narrated by Meryl Streep, titled Ginevra's Story. Call 800-697-9350 to order.
The National Gallery of Art, Washington DC
Ginevra de'Benci is just one of many stunning female portraits at the National Gallery of Art. Click on the button below to download a guide to some of her artistic "sisters."
Click to Download "Ginevra's Sisters at the National Gallery of Art"
"In this beautifully written exploration of a real-life Renaissance woman, Laura Malone Elliott delivers the stunning tale of Ginevra de' Benci, captured forever in Leonardo's first portrait—a painting that broke convention and established the master as a force of artistic honesty."